Experience The Unique Tokenized Trading Through Currency.com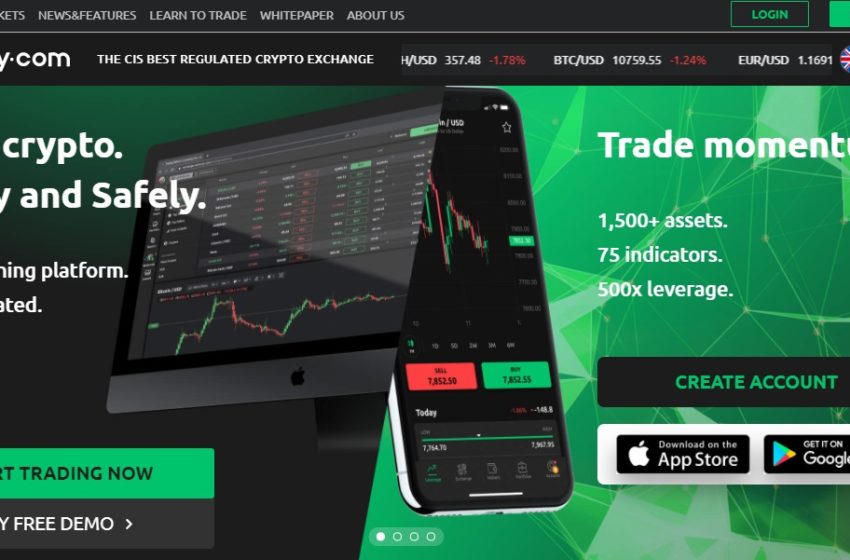 The concept of online trading was only a dream three decades ago but today it is not a big thing anymore. Similarly, the concept of cryptocurrency was only a myth until in 2007 it was launched successfully and today from buying and selling till using it for trading is a new trend on the horizon. This gave birth to the concept of "tokenized securities" and the need to establish tokenized securities exchange and, as a result, Currency.com came into existence to be the world's first ever tokenized security exchange.
Founder of Tokenized Assets
Currency.com is located in Minsk, Belarus and offers the traders and investors to sell and purchase over 1,300 plus tokenized securities through some of the most popular cryptocurrencies such as Bitcoin, Ethereum, and Litecoin, and allows them to trade in stock indices, commodities, government bonds etc. Currency.com designed its trading platform while keeping in view the demands and requirements of the global traders who want to explore global trading markets in order to make a better future and become a prominent figure amongst traders of the world. 
Before the launch of Currency.com, the concept of trading in tokenized assets was non-existent but this breakthrough in financial industry was successfully brought in by Currency.com and in less than no time the online traders recognized the worth of trading in tokenized assets.
Awards and Accolades 
Considerably young in the field of financial industry, yet Currency.com, due to its dedication and sheer will to deliver the industry leading services and products, was able to earn an impeccable reputation in the financial industry and won multiple awards and accolades in the field for being a most efficient and easy to use tokenized brokerage. In the year 2019, Currency.com was awarded the highest award in Blockchain Life Award 2019 amongst crypto exchanges as "the best cryptocurrency exchange in the CIS" and most recently as "Breakthrough in cryptocurrency trading" by ADVFN International Financial Awards 2020. 
Before we learn about prominent features of Currency.com platform, it is essential to explain the concept of trading in tokenized assets and how it is done.
Understanding the Concept of Trading in Tokenized Assets
Since the concept of trading in tokenized assets is new therefore it is not well-understood by many. As we all know that the trading in cryptocurrency required the use of blockchain technology hence the trading securities/assets such as indices, stocks, commodities, currency exchange, bonds etc. are transformed into tokenized form and can then be traded through the blockchain technology.
When an asset is tokenized, it then becomes a most beneficial asset which can guarantee high returns on investment and becomes easier to verify and transfer. The traders of Currency.com have been able to successfully conduct their desired trading in the following tokenized assets. For example: –
Indices: (In indices the trader of Currency.com have been successfully able to buy and sell indices which relate to some of the well-known names such as S&P 500, US100, FTSE 100 etc.

Bonds

Commodity items relating to precious metals (i.e. gold, silver, platinum) as well as fuel and natural gas.

Shares belonging to mega companies of the world such as Google, Netflix, Amazon, Apple, HP etc.

Highly lucrative cryptocurrencies such as Bitcoin, Litecoin, Ethereum etc. 
There are two methods of investing with Currency.com for the purposes of trading in tokenized assets. One way of investment is that the traders who owns cryptocurrency can directly deposit his cryptocurrency into the trading account of Currency.com. On the other hand if a trader does not own any cryptocurrency he can easily by the cryptocurrency of his choice from the platform of Currency.com and can then deposit the same in this trading account for the purposes of buying tokenized assets.
Dynamic Features
Let us now look at the dynamic features which are offered by Currency.com to its traders: –
From the day Currency.com was launched it made sure to give utmost priority to its customers and ensured that they are provided with maximum number of tokenized securities so that they can thrive in their trading careers from the platform of Currency.com. For the time being the platform of Currency.com offers over 1,300 different tokenized securities, where while trading in cryptocurrencies, a trader can also trade in trading products such as tokenized commodities which include inter alia gold, crude oil, bonds, tokenized stocks and much more. 
Charges and fees

: Like every other brokerage firm, Currency.com also impose charges and fees for rendering its services. These charges and fees can be divided into two categories namely trading fees and withdrawal/deposit charges. When one compares the fee and charges being charged by Currency.com with other top trading platforms such as BitMex or ByBit, he will notice that the fee and charges being charged by Currency.com are very competitive in terms of tokenized securities, and in particular margin trading. 

Security and Transparency

: One of the most promising aspect of Currency.com relates to the provision of security and transparency. Currency.com takes pride in its trading platform which, from the day Currency.com was established, remains free of defects, malfunctions and breaches. This is due to the fact that the platform of Currency.com is highly secured which is based on high level security protocols and is being updated from time to time in order to keep up with the technology and advancement. Similarly, the servers of Currency.com are stored in LD4, which is a data centre being used by largest and leading trading platforms of the world. 
The reason why Currency.com has earned so much popularity amongst traders is due to its transparency where except for the fees and charges which are pre-defined, there are no hidden or extra charges. Otherwise this is the most common practice of the brokerage firms to charge extra money and in some cases there are also hidden charges which are not been informed to the trader at the time of signing up with the brokerage firm.
Very interestingly a trader of Currency.com can conduct his trading in tokenized assets with or without the leverage. The choice of availing or ignoring the leverage is much dependent upon the trader and is a sole prerogative of the trader. However, in case a trader wishes to opt for availing leverage option, then from the platform of Currency.com the trader can trade cryptocurrency with a leverage of 20x while for trading in tokenized assets, the trader has the leverage of 200x, both of them are enormous figures as they can guarantee huge returns on investment in both i.e. cryptocurrency and tokenized assets.
User-friendly trading platform

: The trading platform of Currency.com is made in a way so that it can be used easily by any level of trader from novice to professional trader and has a very user-friendly interface to do the trading transaction and exploring through variety of lucrative tokenized assets in trading markets. The platform allow smooth running on any computer, laptop or internet based devices without lagging or creating any unwanted distractions. 
Apart from its being a user-friendly platform, it also provides a wide range of trading instruments which include advanced charting tools, guaranteed stop loss, negative balance protection and provides multiple payment options. A trader is also able to have instant price alerts and the transactions being carried out are fulfilled in split second.
Keeping in view the need of the traders and to cope with the advancement and technology, Currency.com has also made sure that its trading platform can also be accessible and worked on any mobile devices based on Android or IOS system. 
Each and every communication with regard to the trade, trading history and trading statements are all securely saved in the trading platform in encrypted form using sophisticated computer languages for example HTTPS, which makes the stored data free from any unauthorized access. In one time, the trading platform of Currency.com has the capacity to deal with approximately 50 different options per second which makes it a very powerful and robust trading platform as compared to other trading platforms offered for use by other brokerage firms. The platform is yet highly secured by applying high-end physical and virtual security protocols.
Similarly, the trading account maintained with Currency.com is only accessibly by using strong password and requires a two-factor authentication supported by Google Authenticator. This gives the trader of Currency.com extra edge over other brokerage firms whose trading accounts have been reported to be compromised by one way or the other.
Customer Support

: Let us discuss now the most obvious and distinguished feature of Currency.com which is customer support. The customer support of Currency.com is made up of highly trained, qualified and immensely experienced personnel and are fully equipped to deal with the problems and deal with them effectively and efficiently. The customer support team of Currency.com can be reached round the clock through various mediums which include telephone, email, livechat as well as through popular social networking apps such as Whatsapp, Viber, Facebook Messenger, Telegram etc. 
The team of customer support remains at the complete disposal of the traders of customers of Currency.com and resultantly, many of Currency.com's old customers are still maintaining cordial relationships with Currency.com.
Availability of Demo Account

: To allow the users/traders/customers to have a much deeper understanding of how the Currency.com's platform can be used for trading in tokenized assets, Currency.com offers the facility of "Demo" account which can be signed up by any person free of cost. 

Ease of Deposit and withdrawals

: The common problem that is being reported by the customers of other brokerage firms is that when the request for withdrawals their requests are not dealt with immediately and takes too much time. Similarly while depositing, the traders are faced with certain problems such as the brokerage does not allow deposits through debit card or credit card or through bank via transfer etc.
However in this area as well, Currency.com has gone step ahead of its competitors where the process of deposit and withdrawal have been made easier and simplified. Normally the Currency.com exchange allows deposits and withdrawals to be processed within a day. A trader of Currency.com can deposit the money through debit card or credit card as well as via bank transfer and the platform supports fiat and cryptocurrency deposits and withdrawals. It also allows the trader to send his money lying in his trading account with Currency.com to be transferred to the trader's bank account or crypto wallet.
Corporate Responsibility and Compliance
Currency.com came into being in the year 2019 and within less time it made its mark in the financial industry and was soon able to become the world's first ever regulated exchange of tokenized securities. It has been registered and incorporated in Minsk, Belarus, and is hundred percent owned subsidiary of Currency Bel LLC and has various offices including one in UK and Gibraltar. The current workforce of Currency.com is comprised of over 100 employees in which the key members of the team include some of the highly professional intellectuals from the financial market industry.
Begin a lawfully regulated entity, Currency.com is strictly following Know Your Customer (KYC) and Anti-Money Laundering (AML) policies in letter and spirit as well as provides full data protection. The account of Currency.com are being audited by world's most highly reputed accountant firm, Ernst & Young, which gives exclusive weight to the credibility of Currency.com and authenticity to its business of trading in tokenized assets.
Currency.com is armed with the ambition to cross 10,000 tokenized securities in the near future and has been tirelessly working towards becoming an exclusive decentralized exchange of tokenized assets before the end of 2023. For the convenience of its global traders, Currency.com platform offers accessibility in multiple languages which, apart from English, also include Chinese, Russian and Korean.
Conclusion
Having all these features under one umbrella, one thing is obvious and which is that Currency.com is a professional, transparent and trustworthy trading platform which can be used by every level of trader from any part of the world and is ambitious to expand in terms of providing more tokenized assets in the future. Providing of tokenized assets by Currency.com was a breakthrough in the financial industry and thus the traders can also make a breakthrough in this young and most lucrative trading, which is certainly going to be the future of trading world. To learn more about Currency.com click here.